Hi, I'm Roland 👋
a full-stack software developer specialising in front-end with 2 years coding experience. Currently working full-time for a London-based company.
About me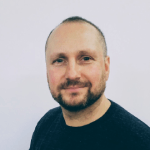 Primarily I am a creative thinker with a can-do attitude and skills to match.
My goal is to build user-centric, responsive interfaces mostly with JavaScript / Vue / React on the front-end and Node / Express / EJS / MySQL on the back-end.
A key aspect of my work is working closely with developers and designers to meet product and design specifications, paying attention to detail and writing high-quality code.
Solving code problems is a constantly enjoyable challenge and teaches me the importance of patience, perseverance, doing meaningful research, thinking out of the box, having an open mind and knowing when to ask for help 🙋‍♂️.
Contact me
Any questions? Just send me a message and your details. It wIll be great to hear from you.