Hi, I'm Roland
👋
a full-stack developer, specialising in front-end. I mainly work with JavaScript, React, Node, Express and other languages and tools shown in the projects below.
I am based in Leicester and work as a full-stack JavaScript developer at Cromwell, a supplier of industrial tools. This portfolio website features some side projects I have been working on in my spare time.
About me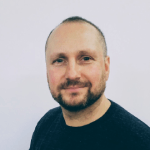 I enjoy the challenge of bringing new ideas to life. With a keen eye for design and motivation for writing robust code, I thrive on building user-centric interfaces which aim to solve problems and improve the quality of people's lives. Read more 👇
Ever since I can remember I've aways been curious about technology and understanding how things work. As a kid I spent many hours with my Dad solving DIY problems, and was drawn to logical puzzles like the Rubik's Cube. The sense of fulfilment of figure things out is what inspired me to learn how to code.
Working as a software developer is an ever-evolving journey of discovery and fulfilment. Knowing that the software I build helps people achieve their goals is an ongoing inspiration for me to improve and explore new ideas.
Contact me ✏️
Any questions? Just send me a message and your details. It wIll be great to hear from you.