Hi, I'm Roland
👋
a full-stack developer, specialising in front-end. I work with JavaScript, React, Node, Express and other languages - as shown in the projects below.
I am based in Leicester and work as a full-stack JavaScript developer at Cromwell, a supplier of industrial tools. This website features side projects I have made in my spare time. Each project has been built from scratch.
About me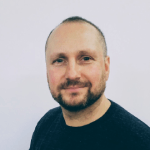 I enjoy bringing new ideas to life. With a keen eye for design and writing robust code, I thrive on building user-centric interfaces which aim to solve real-word problems. Read more 👇
I've always been curious about technology and how things work. As a kid I loved spending time with my Dad solving DIY problems, and used to spend hours solving puzzles like the Rubik's Cube. Figuring things out is what inspired me to learn how to code.
Projects 👨‍💻
A collection of side projects built from scratch using various languages and frameworks. Filter by language and view the project , Github repo or source code .
Contact me ✏️
Any questions? Drop me an email, it will be great to hear from you.