Hi, I'm Roland
👋
a full-stack developer, specialising in front-end. I mainly work with JavaScript, React, Vue, Node, Express and a variety of other languages and tools shown in the projects below.
I work remotely for Ontrack MS Ltd which provides end-to-end job tracking with built-in quality management tools. This portfolio website features some side projects I have been working on in my spare time.
About me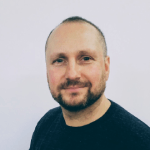 With a keen eye for design and a passion for writing robust code, I love the challenge of bringing new ideas to life. I thrive on building user-centric interfaces which aim to solve problems and improve the quality of people's lives. Read more 👇
Ever since I was a child I've had a curiosity for understanding how things work. From learning how to fix the plumbing and other DIY jobs with my Dad, to discovering the fun of problem-solving by completing the Rubik's Cube; my curiosity and desire to figure things out inspired me to learn how to code.
Working as a software developer is an ever-evolving journey of discovery and fulfilment. Knowing that the software I build helps people achieve their goals is an ongoing inspiration for me to improve and explore new ideas.
Contact me ✏️
Any questions? Just send me a message and your details. It wIll be great to hear from you.