Hi, I'm Roland 👋
a full-stack software developer specialising in front-end with 2 years coding experience. Currently working full-time for a London-based company.
About me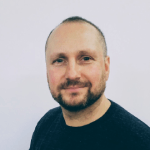 Inspiration / Skills / Thoughts
A creative thinker with a can-do attitude and skills to match.
Enjoy building user-centric, responsive interfaces mostly with JavaScript / Vue / React on the front-end and Node / Express / EJS / MySQL on the back-end.
An enthusiastic team player. Working closely with developers and designers to meet product and design specifications is a key aspect of my work.
Love solving code problems as it teaches me the importance of perseverance, patience, research, asking questions, having an open mind, thinking out of the box, taking a break, and when the code still doesn't work... stay positive! 😍
Contact me
Any questions? Just send me a message and your details. It wIll be great to hear from you.